Scholar Stories: Men's Swimmer Cope Sets Lofty Goals in Pool, Classroom
MGoBlue.com highlights Electrical Engineering undergrad, Tommy Cope, including his record-setting swimming career at Michigan and his path from the heart of the Buckeye State to Ann Arbor.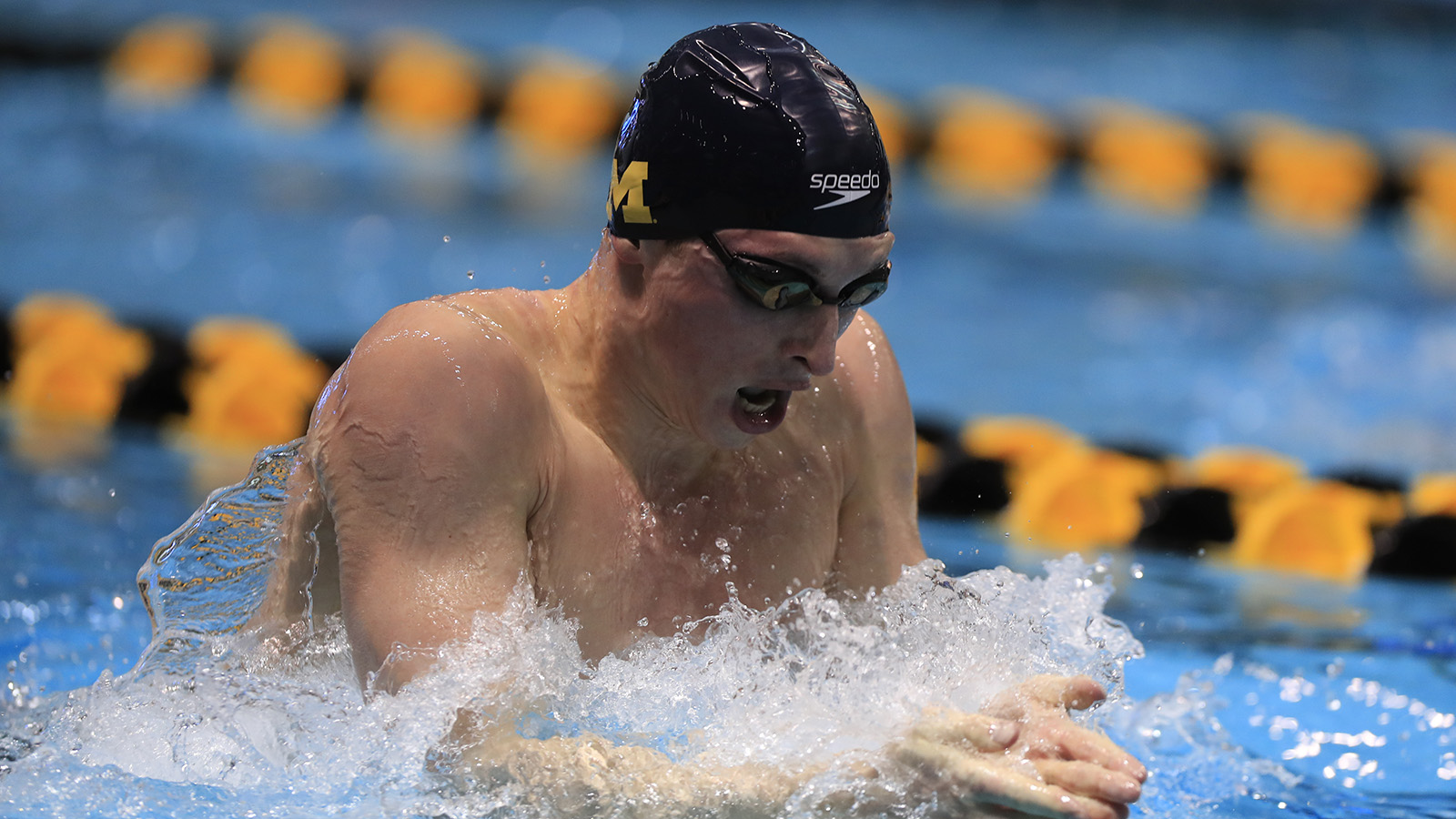 Enlarge
×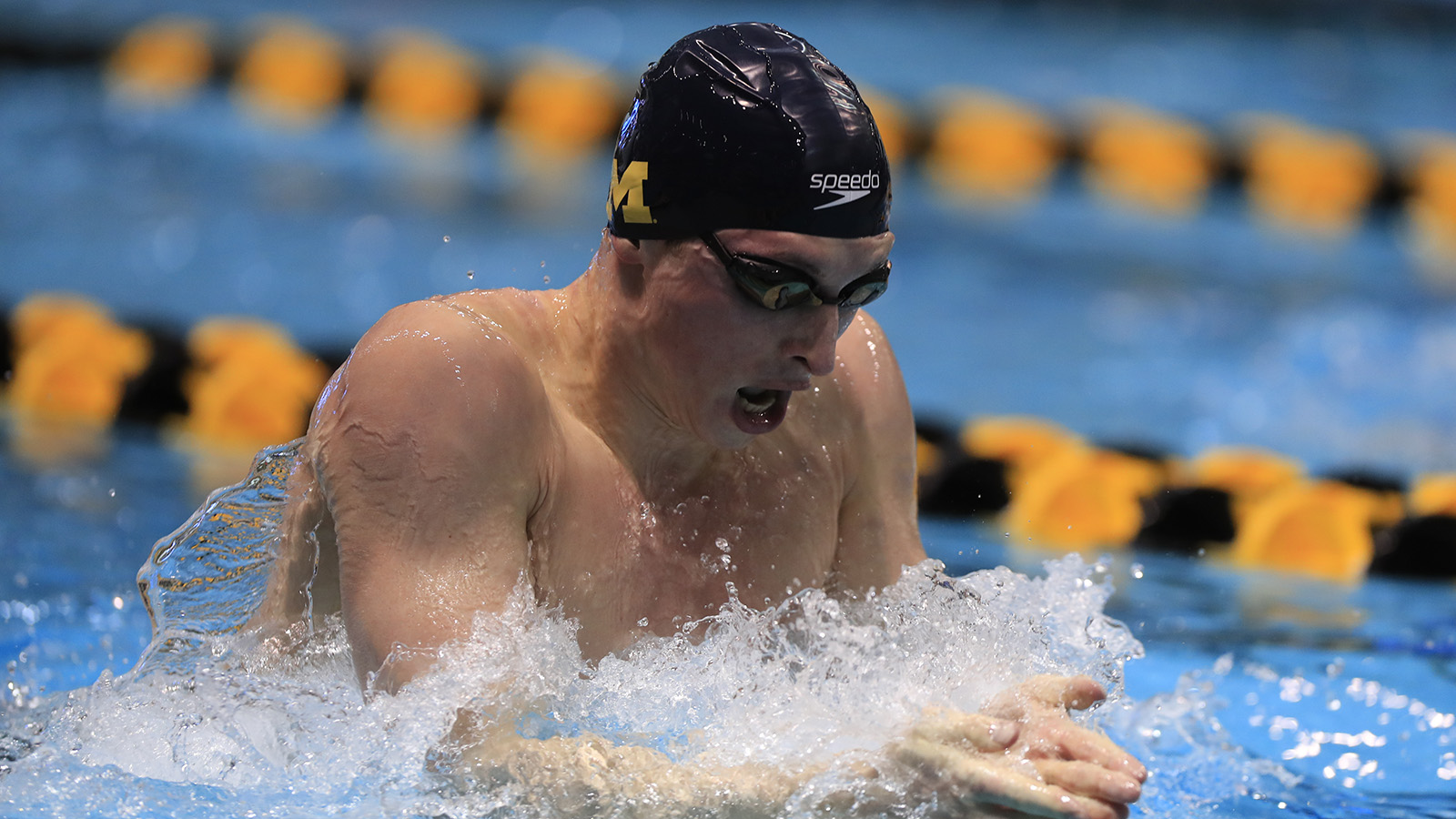 Tommy Cope knew the questions would come. Coming from Ohio and pledging your allegiance to the University of Michigan, questions come with the territory.
Cope is a native of Dayton, Ohio, and was a highly successful club swimmer with the Dayton Raiders, evolving into one of the most coveted recruits in the Class of 2016. He won multiple Ohio state championships at Butler High School, and was a five-time NISCA All-American.
One fall evening, Cope was being honored on the football field for one of his All-America plaudits. After the PA announcer finished congratulating him, it was announced to the entire crowd that Cope was bound for Ann Arbor.
BOOOOOOOOOO!
"Gives you an idea how crazy people are about Ohio State there," he said, "but I don't regret it at all."
Enlarge
×
Cope started swimming at 6 years old as a way to pass the time during the summer. After the family moved across town, they joined a local pool which had a club team. He missed the first two practices, but got up to speed — literally. Within the second year, he was already breaking records.
He has not stopped doing that, either. Now a senior on the men's swimming and diving team, Cope has left his mark on a program that's nearly 100 years old. Heading into this season, he holds the school record in the 200-yard breaststroke (1:51.87), and has three other times that rank on the school's all-time top performers list: sixth in the 400-yard individual medley (IM), seventh in the 200-yard IM, ninth in the 100-yard breaststroke.
On a team with a deep group of versatile swimmers, Cope is among the best. But in order to proficiently swim the IM, you need to be good at all of them.
"As an IMer, you're constantly doing different strokes. You can't slack off on something," he explained. "You need to be able to keep technique. You may only do 1,000 yards of backstroke a week, but those are really important because that's all you'll do. I try to work every stroke, every practice."
In his first three years, Cope has saved his best swimming for when it matters most. He finished seventh in the 200-yard breaststroke at the NCAA Championships as a sophomore, making the podium as an All-American. He is also a five-time All-America honorable mention, winning the consolation final of the 400-yard IM last year as a junior.
But his junior year did not end the way he hoped it would. After finishing second to Indiana at the Big Ten Championships, the Wolverines took 13th at the NCAA Championships, a disappointing end that left a bad taste in everyone's mouth.
"We reached a turning point," Cope said. "Everyone had to take a step back and re-evaluate. We can let it be or we can try to improve. The coaches helped us with that, taking some things that we need to get better on and incorporate those into our workouts more. It's about swimming smarter and harder, and coming together as a team. We know we can."
Cope is an integral part of the team's 12-man senior class. Prior to the season, he was appointed as one of the team's four captains, along with Alex Martin, Jacob Montague and Rob Zofchak.
Knowing the men who came before him in that position — some Olympians, a Rhodes Scholar — he prepared himself to face every type of challenge. To do that, he had look inward.
"After my freshman year, I wasn't pleased with how I did," he said. "I was a small fish in a big pond. But then I started living with Jacob and Felix (Auböck), who were both successful as freshmen. I started paying attention to what they were doing. Better nutrition, more sleep, executing details. All that stuff helped me understand that I'm only limiting myself mentally."
"I had to ask myself, 'what am I willing to sacrifice?' If I think I can do something and I put my mind to it, I can do it. I just got to a point where, if there was something I wanted, I'd give everything to reach it."
Enlarge
×
That same sentiment can be applied to his studies. Cope grew up with an intense background in academics that stems from his mother, Valerie, who is a statistics professor at Sinclair Community College in Dayton. He is a two-time Big Ten Distinguished Scholar — an honor that requires a minimum 3.70 grade-point average — and is on track to graduate in the spring with a degree in electrical engineering.
Cope came to Michigan thinking about majoring in engineering because he was good at science and math in high school. He has narrowed his focus on digital signals and signal processing.
Sound foreign? Allow him to explain.
"It's all communication. Your phone sends out 1s and 0s. That's a digital signal. The processing part is making those 1s and 0s mean something. Most people think electrical engineering is solely about hardware or circuits, but it's way more than that. It's a broad field. I found my spot on the math side."
This past spring, Cope was the recipient of the U-M Bates-Deskins Award, given annually to the athletic department's top junior student-athlete who shines both academically and athletically.
He plans to stick around Ann Arbor for another year to pursue a postgraduate degree, but whether or not he will be swimming competitively remains an open question. Cope has already picked up four U.S. Olympic Trials cuts (100/200 breaststroke, 200/400 IM), but he knows the path to Tokyo is a difficult one. Only the top two swimmers in each event will earn spots on the U.S. Olympic Team.
There are reminders of the ultimate goal all around Canham Natatorium, from the countdown clock near the diving well to the letters imprinted on the wall above the doors that lead to the pool.
IT'S NOT EVERY FOUR YEARS; IT'S EVERY DAY.
The odds may be long, but he is not shying away from the challenge.
"I've been on the cusp of making the national team the past two summers," he said. "That's one of my goals, to move up into that top tier. Guys have done that in the past. I doubt this will be the end, maybe competitively. I've had a fun run in swimming. I don't want to call it quits, but we'll see where it goes."
Whether it is his last chapter or not, that remains to be seen. But there is little doubt that moving north has been one of the best decisions he is ever made.
"I don't know if this is the case with every swim team, but this group is so close, so similar," he said. "We all have the same ideals, character traits and principles, and we all get along so well. It's awesome to spend time with people you can have fun with, laugh with and work with. I probably won't experience anything like this again in my life. It's been a great honor. I'll be forever thankful."
---
This story originally appeared on MGoBlue.com
Photos by Michigan Photography